Adoption Congratulations Messages and Quotes
Congratulatory messages for adoption : God is that merciful entity that can bless a parentless child with good parents and a childless family with a beautiful baby through adoption. It is not an easy process when a couple or a person decides to adopt a child, which gives us a better reason to congratulate them when they are finally able to to welcome and kiss a child in their loving family. We have lots of messages for you so you can congratulate this lucky family on the arrival of the new member to let them know how happy they are.
Congratulatory messages for adoption
We cannot express how happy we are for your beautiful and complete family. Wish your growing family the best.
You will be the best parent in the world. We cannot wait to see your greatest love spread through your growing family. Congratulations.
The long adoption journey is finally coming to an end and we can't wait to see the beautiful baby in your home. Congratulations on making your dream come true.
You have shown one of the greatest acts of altruism, love and kindness through this adoption. May your beautiful family prosper happily in the future. Congratulations.
I still can't figure out who is most blessed. The baby you adopt to have such a pious parent or you to have such a cute baby. You will both bless each other for the years to come. Best wishes.
We look forward to spoiling your new child. Congratulations on becoming a parent. You are so lucky!
You are an incredible couple who will surely love this adopted child as theirs and it fills me with warmth when I think of your new family. Congratulations.
Congratulations on this new addition to your beautiful growing family. May the new member fill your home with blessings and happiness.
If there is one thing, I can guarantee you, it would be how fantastic you will be parents for this adopted child. Thank you for taking such a kind and courageous step.
You have been dreaming of parenting for so long and ultimately it becomes real. We are delighted for both of you. Congratulations.
Congratulatory messages for baby adoption
You are a courageous person to adopt this beautiful boy and give him a loving home and family. I can't be happy enough for you and the boy. Congratulations honey.
It is not easy to welcome someone into your life and decide to accept someone who is not yours. But you are a symbol of strength and kindness. Congratulations to the adopted baby and your family.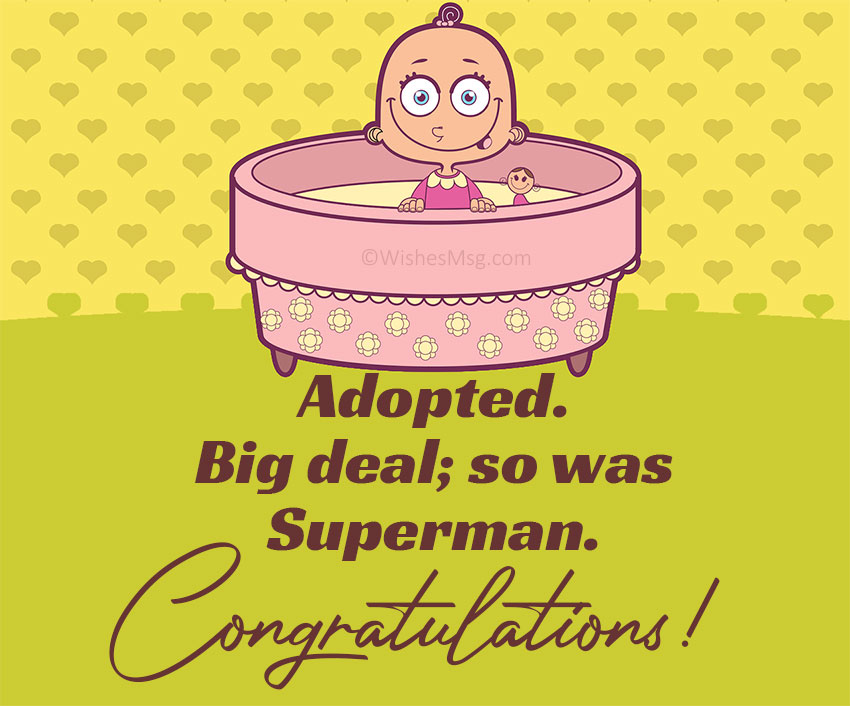 Your adopted baby will one day be your knight in shiny armor. Mark my word! I wish you and the baby all the happiness in the world.
This adoption fulfills two dreams at the same time. Your dreams of becoming a parent and the boy's dream of having a loving family. Congratulations to you two.
Spoil the new rotten little boy with your love and hugs. Congratulations on finishing your family.
Related: baby shower wishes
Congratulatory messages for the adoption of a baby girl
You have done a wonderful thing and I know you will be an incredible parent for this pretty little girl. Congratulations on the successful adoption.
Adopting a child is much more difficult than giving birth to a baby naturally. I am so glad that you have made this hard work possible. The little girl is very lucky to have you as parents. Best wishes.
Your house is full of love and warmth and now you are spreading it into the life of this luckiest girl. We are so proud of you. Congratulations.
May God bless you with happiness for having given the gift of hope and kindness to an innocent little girl thanks to this adoption. Congratulations to your growing family.
Parenting has finally embraced you. I think you will make the best use of these blessings. Congratulations to you and the baby.
Read: New Baby Girl Wishes
Adoption quotes and Bible verses
"Parenting requires love, not DNA." – Unknown
"Adoption is when a child has grown in his mother's heart instead of his belly." – Unknown
"Little souls find their way to you, whether they come from your womb or from someone else." – Sheryl Crow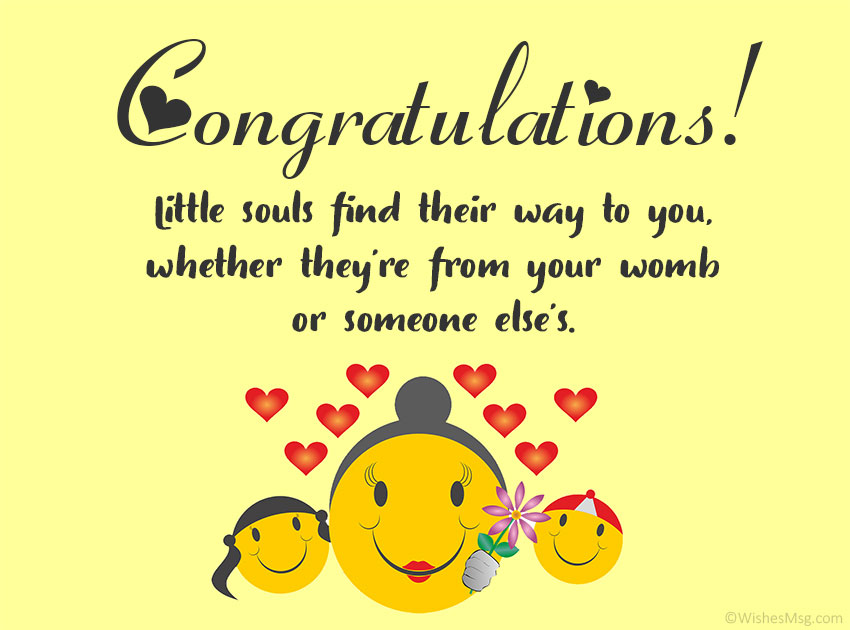 "Carried. Big deal; Superman too. – Chris Crutcher
"Being a mother is an attitude, not a biological relationship." – Robert A. Heinlein
"There are times when the adoption process is exhausting and painful and makes you want to scream. But, I am told, childbirth too. – Scott Simon
"Family is not defined by our genes, it is built and maintained by love." – Amalia G.
"Whatever motherhood comes to you, it's a miracle." – Valerie Harper
"Adoption is not the call to have the perfect and rosy family. It is the call to give love, mercy and patience. "- Hope for orphans
"Fate comes into play. These children end up with you and you end up with them. It is something quite magical. "- Nicole Kidman
"Adoption has been a bumpy journey – very bumpy. But was God worth fighting for. "- Mariska Hargitay
"Anyone who receives one of these children on my behalf receives me." – Matthew 18: 5
"I prayed for this child, and the Lord granted me what I asked him to do." – 1 Samuel 1:27
"The father of the orphan, the defender of widows, is God in his holy home. God places the lonely in families… "- Psalms 68: 5-6a
"4 But when the appointed time was fully come, God sent his Son, born of a woman, born under the law, 5 To redeem those who were under the law, so that we could be adopted as sons." – Galatians 4: 4-5
Read more: Congratulatory messages
Adoption is an act of kindness, love and conscience. It is a way of sharing home, love, shelter and blessing selflessly with a pure soul every day. The couple or the pure soul certainly deserve our congratulations and our best wishes for this courageous act where a family receives a baby and a child comes home. Check the amazing adoption messages to make your best wishes and use them on a map, post on Facebook timelines, walls, WhatsApp messages, emails or wherever you think it fits. Enjoy and admire blessed parenting in every way possible.